Back to Newsroom
Insider Asia's Stock Of The Day: TURBO
Friday, 31 July 2015
For investors seeking a silver lining in oil & gas stocks amid the prevailing downturn, we believe Turbo-Mech (Fundamental: 1.95/3, Valuation: 2.4/3) is attractive for its higher-than-market average yields and modest valuations.
Founded in 1989, Turbo-Mech distributes an extensive range of rotating equipment including centrifugal pumps, metering pumps and spare parts for the oil & gas and petrochemical industries. The bulk of its sales are to neighboring Singapore, though its distribution network also extends to Philippines, Indonesia, Thailand, Brunei and Vietnam. Notably, Turbo-Mech supplies its products to oil majors, including Chevron, Shell and ExxonMobil. It also provides maintenance and overhaul services.
Its business is asset-light, which helps defend margins when sales slow, to a certain degree. In the latest 1Q2015, EBITDA doubled to RM2.3 million despite a 22% decline in revenue as demand from the oil & gas industry drops. Net profit fell 13.3% to RM2.5 million, due to reduced contributions from associates.
Earnings ranged between RM8.4 million and RM10.1 million from 2010-2013, rising to RM14.3 million in 2014 on the back of higher revenue coupled with effective cost-control and greater contributions from associates in Malaysia, Thailand and Brunei.
Dividends were steady at 5 sen per share annually in 2010-2014, except for slightly higher 7.5 sen in 2011, giving shareholders a net yield of 4.6% at the current share price of RM1.08. Payout ratio of 38% of 2014 net profit implies a fairly healthy margin of safety. Plus, it has cash pile of RM52.2 million, which can sustain dividends at this level for the next 10 years.
Turbo-Mech is in the midst of acquiring a 24,973 sq ft property for RM21.4 million to increase its workshop capacity for maintenance and overhaul services. The new workshop is located in Joo Koon Circle, across Jurong Island, Singapore, which houses more than 95 leading petroleum and petrochemical companies.
Excluding cash, the stock is trading at trailing 12-month P/E of only 4.6 times.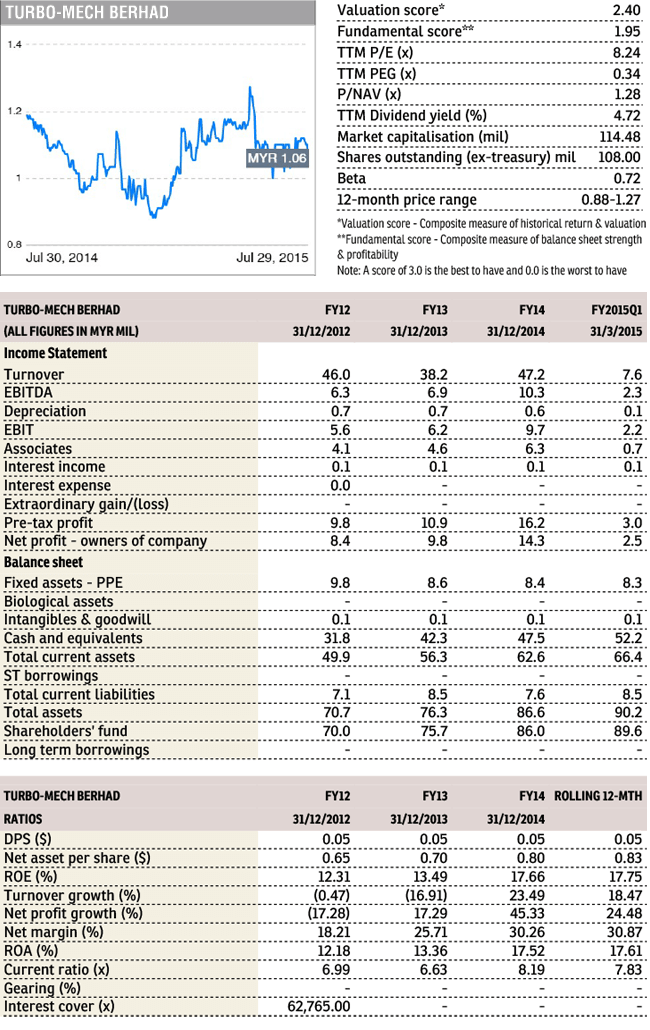 ( Source – klse.i3investor.com )